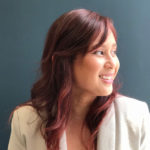 Hi. Hello. Nice to meet you.
I'm Angela. Copywriter. Cartoon doodler. 80s music lover. I obsess over sushi and steak. I Google partial lyrics to songs I hear. I enjoy reading books once and then criticizing their movie adaptations to no end. I half-smirk when people say "Valentimes." I feel like a scholar when I know the final Jeopardy answer. Sometimes, I talk in accents when brainstorming. I have an affinity for baby pandas and hedgehogs. I admire people who are passionate. And I respect people who are pretty damn good at what they do.
Little secret: I was in the 2nd grade when I made my writing and illustrating debut. "Blue Blaze," a story about a superhero who fought crime in a Crayola electric blue suit. It never made it to the best sellers list, but it did win me a set of scratch 'n sniff stickers and Keroppi pencils.
Not so little secret: Once upon a time, I wrote and produced songs.
Where I've been. What I've done.
Senior Copywriter
Sage, San Francisco, Present
Responsible for the development and execution of global awareness programs, campaign strategies, product marketing, event materials, and internal communication initiatives
Senior Copywriter
MVNP, a DDB affiliate, Honolulu, 2016 – 2017
Hawaii Visitors Convention Bureau, Hawaii Tourism Authority, Hawaii Convention Center, First Insurance Company of Hawaii, McDonald's of Hawaii, Hawaii Storm Water Management
Creative Director
Eleven Past Studios, Honolulu, 2013 – 2016
University of Hawaii at Manoa, Daniel K. Inouye Center, Kauai Heritage Properties, Kaimana Hila, Plaza Assisted Living, Chaminade University, Diamond Syndicate Hawaii, Big Brothers Big Sisters of Hawaii, Bishop Museum, Hawaiian Airlines, Island Pacific Energy
Co-Creative Director/Senior Copywriter
OrangeRoc, Honolulu, 2011 – 2013
AAM Edge, Associa, Hawaii First, Hawaii Theatre, Opal Fields, Podium Raceway, Retina Institute of Hawaii, Total Life Recovery, ENGINE Hawaii, Office Pavilion Hawaii, Augustine Educational Foundation,
Keiki O Ka Aina
Copywriter
4Front Branding, Honolulu, 2010 – 2011
French Gourmet, Hale Ka Lae, Hilton Waikiki Prince Kuhio, Honua Kai Resort & Spa, Kauai Coffee
Copywriter
Anthology Marketing Group, Honolulu, 2007 – 2010
American Savings Bank, Bank of Hawaii, Centex Destination Properties Hawaii, Dep. of Defense, Hawaiian Telcom, Kauai Visitors Bureau, Marriott Resorts Hawaii, Na Hoku Outback Steakhouse, Pearlridge Shopping Center, Sony, The Ritz-Carlton Club & Residences, Kapalua Bay, Royal Hawaiian Center
Account Executive
Laird ChristiansonAdvertising, Honolulu, 2005 – 2007
Marriott Resorts Hawaii, Marriott Vacation Club International, The Ritz-Carlton Club & Residences, Kapalua Bay